Is this class for you?



This class is for anyone looking to improve their body on a mechanical level.

It will bulletproof your joints, increasing their health and resilience.

It will teach you how to maintain your body, and how to mediate life's daily tensions through advanced body maintenance techniques.

It will expand your end range of movement, and improve your active capacity within that range of movement.

It will refine your movement patterns, improving your movement efficiency.

It will show you just how important Glutes actually are.

It will give you "hips like butter."

Whether your goal is sports performance, injury recovery, basic maintenance, or if you're just sick of life aches and pains...

ANY age, ANY ability...

If your body needs work, this class is for you.
Highlights
- Remove aches and pains

- Increase active range of motion

- Build strength and control

- Master basic movement patterns

- Injury prevention/recovery

- Joint health and longevity

- Learn advanced body maintenance

- Improve core stability
You are only as strong as your weakest link.
Mobility training is a very personal practice, as everyones mechanics/body composition is completely different. What feels easy for some people, will be agony for others, so the program will cater for that variability.

Each class will cover all the key areas, hips, shoulders and spine; ensuring for those with "non specific goals" that all the bases are covered in every class. But each class will have its own individual focus.


For example, one class may focus on neck tension, while the next could be on lower back pain etc. The idea being that if an individual has a specific requirement, which is highlighted to them either through the class or otherwise, they would then have the tools at hand to address that specific issue. They
can make notes, or replay the class in their own time, to give their body the personal
attention it may need.


The program itself will also have a progressive element to it, ensuring that those who commit to completing the weekly classes will get optimum results, and consistent improvements.
How to access the class?
Step 1
Book the class you wish to attend through the booking system.


Step 2
Either stream the class direct through the booking section, or click the link (that will have been emailed automatically) in your inbox, that will direct you straight to the class. Simple.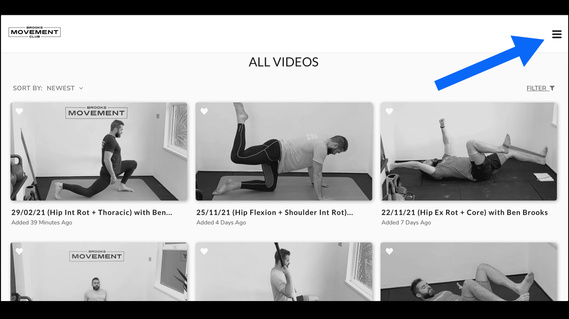 What if I miss a class?


Any class you miss will be uploaded into the on demand library, to be completed at your own leisure.
Or repeated if you enjoyed it, however it should be noted that my jokes are less "dazzling" the second time around.
Megan Davies
"This class speeds up my recovery, and I have seen a marked improvement in my overall form when doing Crossfit as a result of expanding my end ranges."
Steve "Hips Like Butter" Adams
"I now see this as an integral part of my fitness routine, something just as important as cardio or strength training."